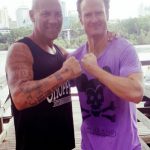 Josh Lawson is a dedicated member of Team Chopper. An L.A. based Australian actor and director, Josh Lawson is playing Paul Hogan in a mini-series being filmed right here in QLD. Hogan was a good boxer so Josh is training with Chop for the duration of the filming.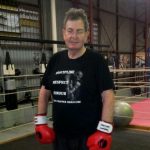 Businessman, Company owner and major sponsor for the Brisbane Broncos. Kim started training at a body weight of 138kgs… grossly overweight and unfit. After some SERIOUS adjustments to his lifestyle and regular exercise, Kim now weighs in at 118kgs after a year of personal discipline. His goal weight of 110kgs is now in sight.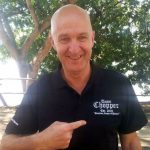 Phil rang me 3 years ago and asked to meet up for a coffee. He was 92 kgs ,52 years old and looked like he was about to die. 3 years on and he has become a role model of health and fitness, losing 20kgs in weight and becoming an inspiration to young and old…
Both big boys, both corporate heavyweights in their own right. Victor a Financial Engineer and Simon the Managing Director of his own company. There also share a love of the pantry and the fridge… hence a very discipline training regime that stretches back years. These guys aren't just long time clients but also good friends…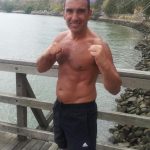 Robby Guardala started training 10 years ago next month. His starting weight was 102 kgs and he is only 5ft 6in. He is currently 75kgs (see attached) and in awesome shape at 42yrs of age.  After 10 years of Team chopper training he has become a great ambassador for health. Robby runs up to 50kms…
After 15 years working in the Police Service this is the only bloke that I used to work with that I am proud to call a friend. Loyally, integrity and a strong work ethic are also the reasons why Thomo left the Police. He has these characteristics in bundles an as a result retired after…
Dan and I met 10 years ago training together whilst he was playing elite sport. Dan is way too intelligent and tuff to play his chosen sport, and as a result left his profession to successfully run his own business and raise children. Yet the drive for elitism burned deeply inside him, and with that…
Both former professional basketball players who have continued there high intensity training at Teamchopper. Basket ball players don't usually send shudders of fear down your spine, but these 2 guys break the mould. Not only does there training involve boxing drills, truck pulls, tracker tyre drags, weights and triathlon drills but they hop into the…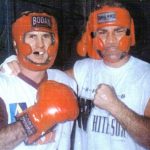 Words cannot accurately describe a bloke like Mick. He was a one of a kind, a country bloke that placed family and respect above all else.  A bloke that had more honour, humility and loyalty than any person I have ever met on this earth. He was a son of Pat's and Marcella's, he was…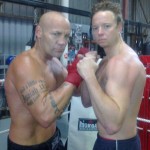 If you look in the Oxford dictionary under "Health Professionals" there is a picture of Boom Boom.  Michael is this countries and possible the worlds leading physiotherapist. He is also the resident physio at Team Chopper Int. A long time friend and client, we have travel internationally working together. I hurt them and he fixes…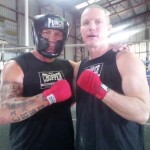 Ever met a tough accountant?…I have RICO….that's right, the person I have done literally 100s and 100s of rounds with is a number cruncher. Yet, he is without a doubt one of the toughest men I have ever met in my life. Although big Rico has a softer side… He is well known for tying…
"Big Bad" Bobby Koning (On the left) and Smoking Joe "Black" Carbone. They are long time clients who loving eating and making money as much as training. They both have Fruit and Veg Empires, plus big families….yet still find the time to train at Team Chopper 2 to 3 times a week. It's a credit…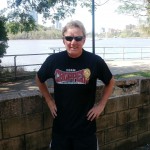 For an Ex politician Steve has plenty of discipline. For 8 years he has been punching and crunching at team chopper. Steve prioritises his health and well being whilst maintaining a hectic corporate lifestyle. Congatrs Mr.T. You are a great role model to other corporate heavyweights.
The Chainsaw…one of real estates high flyers, and an Auctioneer that can sell sand to the Arabs… 2 years ago I met Phil at a coffee shop at Southbank, he was nearly 90kgs and on deaths door. At 52yrs of age, Phil had burnt the candle at both ends for many many years. He had…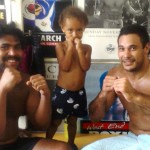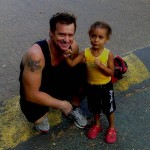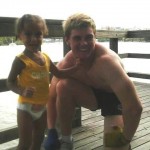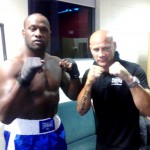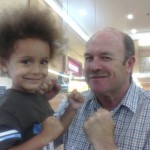 It's a quiet and peaceful Tuesday morning just before sunrise. The waves created by passing craft gently lap the river banks underneath the Kangaroo Point cliffs. Sun glistens off the river and the surrounding buildings creating a picture-perfect postcard. It is pure serenity. That's until… 'Jimmy!', 'Jimmy up!', 'When's Jimmy getting here Chop?' 'Where's the…
Challenge Sick and stress leave at AE Smith Air Conditioning Company was reaching unacceptable levels, costing the business significantly in time and money. General Manager Graham "Butch" Buderus instigated an innovative brainchild – send 50 of their high achieving personnel to Curtis Island for a training / leadership camp with myself as lead facilitator. Curtis…