Having written the Boxing training course for personal trainers at the Southbank T.A.F.E, I now travel the State lecturing students on longevity in the personal training industry. I also speak at many corporate functions and AGMs with a theme of prioritising your HEALTH before your WEALTH.  Primarily the subjects that I am asked to speak about are:
Professionalism and Performance….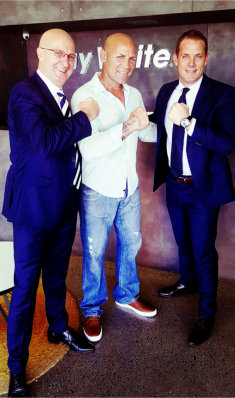 I have the knowledge of this subject via representing my country at my chosen sport. A 3 x Australian champion that has represented Aust internationally on 14 occasions.
I have also worked with highly successful teams, such as the Brisbane Broncos, the Brisbane Lions, the Qld Reds, so I am aware of how high profile sporting teams prepare and perform, and what makes them successful.
Overcoming adversity…
As a former Qld Police officer for 15yrs and having then worked in Iraq as a lecturer / recruitment officer post Sadam, I can confidently speak on dealing with and coping with extreme duress and adversity, both in a work environment and living in a war zone such as Iraq.
Health before your Wealth (Being Fighting Fit at 50 )
As a highly successful 53yr old businessman, I am able to inform people of the skills and motivation that keeps me  "fighting fit after 50yrs". Prioritizing your health before your wealth so you may have a greater quality of life.
To find out more about having me speak at your next event, please leave your details the in the enquiry box on the right or visit the enquiries page.