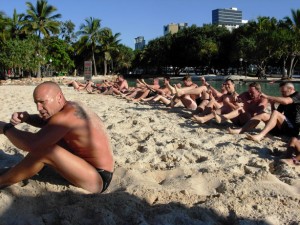 As a health and fitness professional based in Brisbane, specialising in Personal Training, Elite Athlete Training and Corporate Health & Fitness. At Team Chopper International I basically train fit people to get fitter. I provide a high intensity cardio alternative adding a variety to athletes or former athletes programmes.
As a boxer I have won multiple titles and fought in 14 International fights, representing my country in Samoa, Indonesia, Vanuatu, New Zealand and Philippines. I bring boxing into many of my fitness regimes and have adopted my coach, Liam White's (former English lightweight Champion), "do as I do, not just what I say" management system.
I have in-depth knowledge of exercise physiology and have written the Boxing training course for personal trainers at the Southbank T.A.F.E and now travel the State lecturing students on longevity in the personal training industry.
I am not the kind of personal trainer who does the 'walk and talk' training regime… my code is Discipline, Respect and Honour and without these characteristic's we will not live/function at our optimum level.
Remembering that… "Age is just an attitude"
To find out more about training with Team Chopper International, please leave your details the in the enquiry box on the right or visit the enquiries page.